If it wasn't clear by now, behind the veneer of best selling business-oriented Docking Stations, there's a group of gamers and peripheral enthusiasts here at Plugable. In the vein that our mechanical keyboards are a love letter to price-conscious typing enthusiasts, the USB-PM3360 mouse is a love letter to price-conscious PC gamers, and those who appreciate the dexterity and comfort of a high-quality mouse when being productive too.
Introducing the Plugable Performance Mouse (USB-PM3360)
We're proud to introduce our first gaming and productivity mouse, packed with high-end features at a reasonable price. Releasing initially at $39.95, the mouse includes must-have features found in products that cost nearly twice as much, without cutting corners on quality, and avoiding some of the more gimmicky features of other gaming mice.
Whether you're considering your first gaming mouse, or if you are an experienced mouse enthusiast looking for what we offer compared to the competition, here's a quick overview of the PM3360's features.
Plug and play with no control software needed to adjust settings.
On-the-fly DPI adjustment to 400/800/1200/1600/3200 indicated by lighting color.
Three-stage LED controls that can turn lighting off, lighting color that matches DPI level, and option for lighting at the base to use a 'breathing' effect.
Ergonomic design for multiple grip styles.
Smooth and durable PTFE mouse feet which work well on both hard and soft surfaces.
Flexible braided cable for minimal resistance.
6/23/2017 — Note: The click latency and polling rate have been improved with a new firmware release. Click here to download. Instructions are included with the files.
If you want to know more about the advantages of these features, and why we opted for them, keep reading to learn more. Also, feel free to leave a comment with any questions and we'll be happy to answer!
Making a mouse we want ourselves
There are countless options these days when it comes to the venerable computer mouse. Like a prospector sifting for gold, there's a lot to filter through before finding the right one.
When making our first mouse, we sought to make a device we'd be proud of. We sought function and form over gimmicks, and keeping the cost affordable and competitive while still having top-notch build quality. When you look at the market for gaming mice there are whole range of options. From mice with crazy angles, blinding light patterns, wireless, wired, and force feedback, to dozens of buttons, insane DPI stats, and prices that help prop up the marketing for the mouse.
We felt we could do better.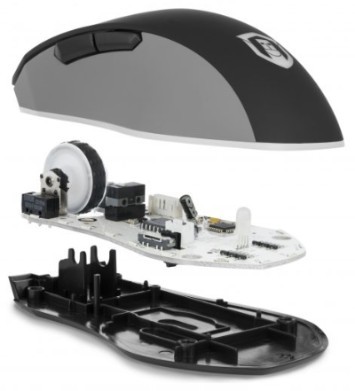 While we hope to offer other ergonomic options in the future, we focused on right-handed grip styles to start with.
We opted for a medium-to-large body and a medium weight. While the size of the mouse is uncontroversial, it can be hard to keep the weight down while still feeling high in quality. The body of the mouse feels very solid, but offers a soft rubberized texture that adds a nice tactile feel that gives the whole mouse a nice premium feeling. Braiding the cable adds durability, has a nice texture to it that gives a more interesting look than plain black rubber while still being understated.
While there are some obvious targets from a technical standpoint, such as the oft-advertised sensor used in the mouse, there were a lot of other functional concerns that went into the mouse.
For one, we wanted the mouse to be totally plug and play, including adjusting mouse settings. We wanted no need to install drivers or added software to control mouse functions. Computer taskbars are cluttered enough if you're an avid gamer, between all the different publisher storefronts, voice chat applications, controls for other system components, and other applications. Including configuration options directly on the mouse also meant providing access to those settings would be exactly the same regardless of what system you used the mouse with.
The onboard controls are a single switch and the DPI button. The switch controls the lighting modes, including turning them off. However, when active the color of the lighting indicates the current DPI level which ranges from 400 to 3200.
The usual fare of a five-button mouse is present, and each click is supported by the industry-standard Omron Mechanical mouse switch. These are found in nearly every mouse on the market and we saw no reason to deviate from that after testing other options that were available. Their build quality is exceptional, they offer a consistent light click, and are rated for long-term use.
There are a lot of preferences when it comes to moving a cursor across a screen, or centering crosshairs on an opponent in a multiplayer match. Two highly-respected sensor manufacturers include Avago and PixArt, and for our mouse we selected the latest PixArt PMW3360.
While Avago used to be the sensor king, PixArt has acquired much of Avago's top sensor technology. This sensor is capable of a detection resolution up to 12000 DPI, and won't skip a beat even with movement up to 250 inches per second (ips) and acceleration up to 50g. This is far and above what almost any gamer will ever do with the mouse, but going above and beyond with the performance of the sensor felt like the right choice to satisfy any play style.
One of our goals was to keep the mouse accessible on a wide range of budgets. It is a tough enough proposition for most people to make the leap from a mouse that was bundled with a prebuilt system, let alone take a chance on a new offering in the mouse arena. We avoided gimmicks and fringe features, and have opted for community engagement over expensive marketing through publications that have helped keep the price reasonable. With a a retail price of $39.95, we feel we're offering a mouse that easily outclasses other products at its price point and still packs high end features offered by much pricier and more well-known mice on the market.
How do others feel about the mouse?
Reddit review by u/EndingShadows — "It's billed as a competitive e-sports mouse that can hang with the likes of Logitech and Razer for a fraction of the price. And honestly, I think it can."
How does we feel about the mouse?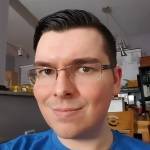 Grip Type — Palm

Handedness — Right

Hand Size — Medium

DPI Preference With Another Mouse — 6,000 to 8,000

MSRP of Previous Mouse — $79.99
What's your background in PC gaming?
It's an odd feeling that my Steam account is 12 years old, and that it doesn't even mark when I started out as a PC gamer. Some titles and series I've sunk more time than I care to admit into include Doom, Unreal Tournament, Halo PC, Battlefield, Civilization, RollerCoaster Tycoon/Planet Coaster, SimCity, and Call of Duty. There are a lot of titles in other genres that I've played through with less of a time commitment, some with a controller, but mostly I game with a mouse and keyboard when practical.
What aspects of a mouse are most and least important to you?
I want to say that the way the mouse looks is likely the least important thing to me, and it is, but I can't say I'd want a gaudy 'extreme gamer' aesthetic if something more understated is available with the same features. Ultimately the way the mouse feels in my hand and the accuracy of it are the most important features. I tend to make very small and precise movements and that makes it important that I have a good grip on it, that the sensor is very accurate, and that the feet of the mouse aren't too slippery that I can't stop exactly where I intend to. Ideally, the mouse becomes something that I forget about because of how natural the interface with the computer feels during use.
What's something that really bothered you from a previous mouse you've used?
One of the worst experiences I can think of that I had with a mouse I've used, and this is something that happened with two mice I've owned, was that something with the sensor and optics were slightly loose, and this caused the cursor position to vibrate a couple pixels at the end of a movement. It took a while to figure out what the issue was because of how tiny the vibration was, but really made it a challenge to click precisely in an image editor, or hit even a mid-distance target in a game.
What did you appreciate about the PM3360?
One of the first things I appreciated about the mouse was the texture, it just felt really great to touch it. It also did two things a lot more quickly than I thought it would. One is that I forgot about it fairly quickly, and the other is that I never felt the mouse hindered my performance in any way despite switching away from a mouse I've used for the last year.
What would you change about the PM3360?
The only thing that I found myself wanting was the mouse shape I've become so accustomed to over the years. The difference was subtle, but the way my hand wanted to rest on the mouse wasn't quite in tune with the shape of the PM3360. I still acclimated to it quickly, but in a perfect world that's the change I would want.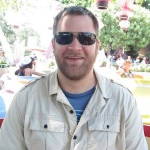 Grip Type — Hybrid (Palm/Claw)
Handedness — Right
Hand Size — Large
DPI Preference With Another Mouse — 1,600
MSRP of Previous Mouse — $79.99
What's your background in PC gaming?
Well if we talk about Steam libraries I have a bit of an unfair advantage. While working my first "real" job at a computer parts and repair shop in Seattle I had a great interaction with a Valve employee. I kick myself for forgetting his name, but he was one of the facial animators for Half-life 2. I was ringing him up at the register when he noticed an Intel poster behind me that actually had the actress (Jamil Giovanni Mullen) that modeled Alyx Vance. He was so excited to notice it that he asked for it and promised to bring back something in return. A day or two later he came back to the store and handed me a code to put into Steam and I have not needed to purchase another Valve title since!
I also used to be part of the largest community of West Coast CS and TF2 Servers, shout out to the now defunct [-Q-] Clan!
What aspects of a mouse are most and least important to you?
Least is easy, I am not a fan of the generic 'gamer' style of sharp angles and LED raves. Most? I am not sure… a lot. When I'm asked about mouse recommendations I always start with things like use case, grip style, and hand size. Today's mouse sensors are so overkill for their purpose that there really is not much difference between the various mice with different top sensors. Having a comfortable and sure grip will have more appreciable results then switching for sensor or buttons alone.
What's something that really bothered you from a previous mouse you've used?
Not much from the mice I have owned because I get quite obsessed with research before making a purchase decision. I have evaluated many mice through the course of my work and there are some real stinkers out there. Any mouse with a crap sensor marketed as a tournament quality e-sports mouse drives me batty. That is why I am so happy to bring out a budget option that does not sacrifice sensor quality.
What did you appreciate about the PM3360?
I was incredibly pleased at how the buttons turned out. There was a concerted effort to find a switch that matched well with the tooling to give that satisfying crisp click. Some mice have a mushy feel especially with the side buttons so that was a clear focus for us to get right.
What would you change about the PM3360?
I would say the coating. It feels nice but I think we can do better. Materials are one of the most time intensive and hard-to-test aspects. I am excited not just to rework some of the aspects of this mouse but to get started on our next mouse which will be quite different!